It's official, Tesla has gone to Mars 🚀. This week, we look under the hood and see what is really going on with Tesla stock. Should you invest? Keep reading to find out.
Trivia Question: Do you know which billionaire just claimed to implant a computer chip in a pig's brain? Scroll to the bottom for the answer.
Market Overview (8/4-8/11)
Click here if these just look like random letters to you! 
VALUATIONS MATTER: Top 4 US equity market valuation indicators, updated weekly with commentary.
Tesla. It's one of the hottest stocks this year as its stock price has gone from ~$220 per share in August 2019 to $2,375.65 as of September 1st, 2020 (or $475.13 after the 5 in 1 stock split). If you invested in Tesla just a year ago, you would have a mind boggling return of 1004.38%.
However, there is one big question. Is a Tesla share worth the $2,375.65 price (or $475.13 after the stock split)? Let's find out! 
Valuation: There is a few ways to look at the current Tesla stock price. Firstly, at $2,375.65 per share, Tesla is valued at nearly $464 billion dollars. For the sake of comparison, Toyota is currently valued at $185 billion dollars. In 2019, Toyota generated $290.1 billion in revenue while Tesla generated $24.6 billion in revenue. Secondly, Tesla is now worth more than Ford, Volkswagen, Ford, General Motors, and Honda combined. Thirdly, and most importantly, the current Price to Earnings (PE) ratio is 1,231. Meaning, investors are willing to pay $1,231 for every $1 in earnings. Put another way, investors buying Tesla stock today are willing to pay for 1,231 years worth of the last 12 months of profits. For some additional perspective, Amazon's PE ratio is currently 130 or 9.2x lower than Tesla.
So, What's Driving Tesla Higher? On our website, we analyze revenue and profits, the massive short squeeze on Tesla, Robinhood retail traders, the 5 for 1 stock split, and the potential to be added to the S&P500 in the near future.
Find Out What's Really Driving Tesla Stock Higher… Keep Reading ➡️
BOTTOM LINE: Should you buy Tesla stock? This is the big question investors face today. Tesla is a very exciting company and will likely surpass the big carmakers in the future. However, the valuation has really gone to Mars in 2020. While Tesla will continue to grow revenue and profits in the future, the current stalled revenue and profit since Q4 2018, exuberant valuation, the general investing mania since COVID started, and the on-going recession makes us caution to invest significantly into Tesla today. That said, momentum may continue driving share prices higher for now even if the fundamentals aren't there. If you insist on investing today, we highly recommend dollar cost averaging (DCA) over the course of at least a few months to reduce your risk of large losses. For now, we're waiting to initiate a new investment in Tesla after selling out too early at $800.

Consumer Confidence Falls 
Before the pandemic, consumer confidence hit its highest levels since early 2000. With the onset of the pandemic and recession, consumer confidence dipped immediately and then started rising again through June. However, with the stimulus gridlock, consumer confidence hit a new low with a 84.8 reading compared to a 85.7 reading in April. Americans are the most pessimistic they have been about the future currently. Now that COVID19 cases are starting to decline in the US again, we'll see if this improves in the coming weeks!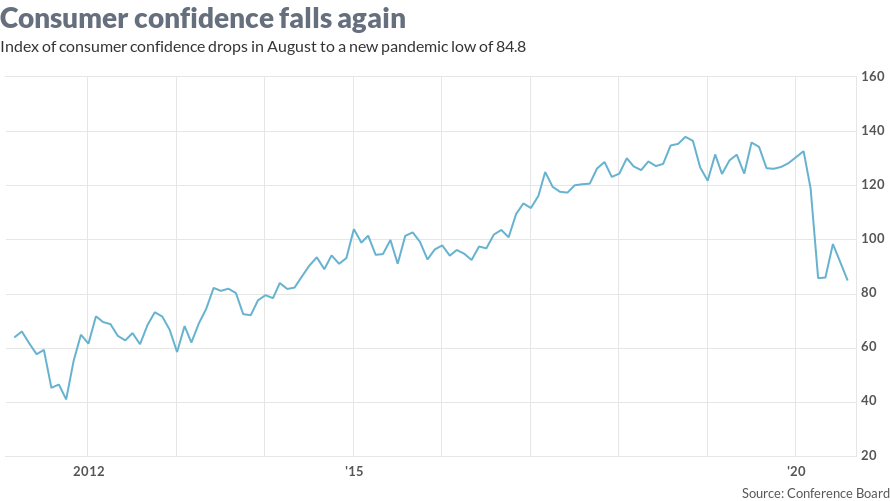 Stimulus Woes 
Currently, Democrats and Republicans are still in a stalemate over a new stimulus bill to keep the economy afloat. In the meantime, the President has authorized $300 a week in additional unemployment (or $400, for states that are willing to pay an additional $100 per week to individuals claiming unemployment). Democrats have made it clear that they are not budging on the size of stimulus. Currently, Democrats are demanding $2.2 Trillion in stimulus to support average Americans through this crisis. In the meantime, the additional $300 a week in unemployment insurance should help restore some confidence in the economy again.
With the decrease in weekly unemployment benefit, consumer spending will likely decline by 12-20% in the short term. However, this is better than the 44% drop in spending that a paper from the National Bureau of Economic Research projected if the additional weekly unemployment benefit was eliminated completely at this point.
COVID19 Winter Worries 
While COVID19 cases are coming back in control, there are a few states actually seeing increases like Iowa and Alabama. Moreover, there is another big concern. With winter approaching, there is a lot of uncertainty on the potential for a new COVID19 outbreak combined with flu season. That would throw a big wrench in the economic recovery. However, in the meantime, a search for a vaccine continues. This past weekend, Dr. Anthony Fauci, director of the National Institute of Allergy and Infectious Diseases, said that we may know we have a safe and effective vaccine by November or December. Let's keep our fingers crossed!
Bottom Line 
The economic recovery since the pandemic started in March 2020 has been impressive all things considered. However, the economic recovery is certainly fragile due to stimulus stalling and the potential for a winter outbreak. For now, we're keeping a close eye on the recovery and rooting for the world!
Credit card debt is not your friend. According to the most recent data from the Survey of Consumer Finances by the Federal Reserve, the average approximate credit card debt of US households is $5,700. In addition, As of August 26th, 2020, the average credit card interest rate stands at a whopping 16.03%.
Let's Do Some Basic Math
So, let's assume you have $5,700 in credit card debt at a 16.03% interest rate. Assuming you pay $57 a month, it will take you 30 years to pay off your debt. By the time you've paid this CC debt off, you will have paid a truly mind boggling $59,340. Furthermore, even if you are paying $228 a month towards this credit card debt, it will still cost you $8,454.40 and take nearly 11 years to pay it off. CC debt is truly financially crippling. Interested in learning more? BankRate has a great calculator to determine how long it will take to pay off credit cards.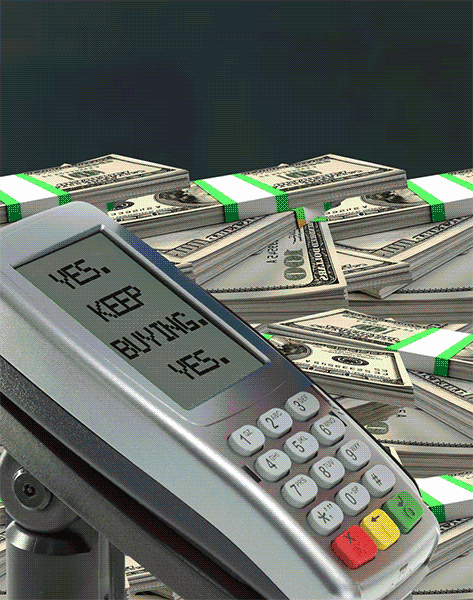 Pay Credit Card Debt Off ASAP 
There is a reason why the wealthy don't accumulate credit card debt. Firstly, it's unproductive debt. Secondly, interest rates are so low that there are significantly cheaper ways to borrow debt. For example, Credible.com provides a service to refinance credit card debt into a personal loan with rates starting at 5.99%. While 5.99% is still high, it's significantly better than 16%+ and forces you on a quicker payback schedule. Whatever you decide, it's important to come up with a plan that allows you to pay off credit card debt quickly and get out of the financial trap.
Wait! Doesn't Paying Credit Card Debt Off Lower My Score? 
In the most widely used FICO scoring model, credit card utilization is responsible for about 1/3 of your overall score. Credit card utilization is measured by dividing your total credit card balances by your total credit card limits. While experts suggest keeping credit utilization at 30% or less for a good score, we recommend as close to 0% as possible. Put simply, use your credit card(s) for purchases but be sure to pay them off every month in full, ideally. Your credit score will thank you over time, even if it drops slightly by paying off the balance in the short term.
Rethinking Credit Cards 
Credit cards are not all bad. In fact, you can use them to generate rewards like free travel or just straight up cash. Assuming you pay the balance in full monthly, you will be paid for using your credit card every month.
Get A Quick Credit Score Boost* 
For the first time ever and only with Experian, you can increase your credit scores fast by using your own positive payment history. Experian Boost is completely free, no credit card required! It can also help those with poor or limited credit situations. Other services such as credit repair may cost you up to thousands and only help remove inaccuracies from your credit report.
* Results may vary, see Experian.com for details
Bottom Line: Pay It Off, Borrow Cheaper Later
Credit card debt is crippling and paying it off helps boost your score significantly over time. While your credit score may temporarily drop slightly once you pay it off, your overall credit score will improve long term. By improving your credit score long term, you'll be able to borrow more cheaply in the future if you're buying a home, car, or other large purchases. Best of all, you can rest easier knowing you aren't stuck in the credit card trap.
Answer: Elon Musk.
Fun Fact: While giving a presentation for Neuralink, the brain implant company, Elon Musk mentioned that Tesla owners will one day be able to summon their Tesla telepathically.
Are there any topics you want us to specifically cover? Do you have a question that ROT can help answer? It's all anonymous. We'll cover it in a future newsletter. Ask away.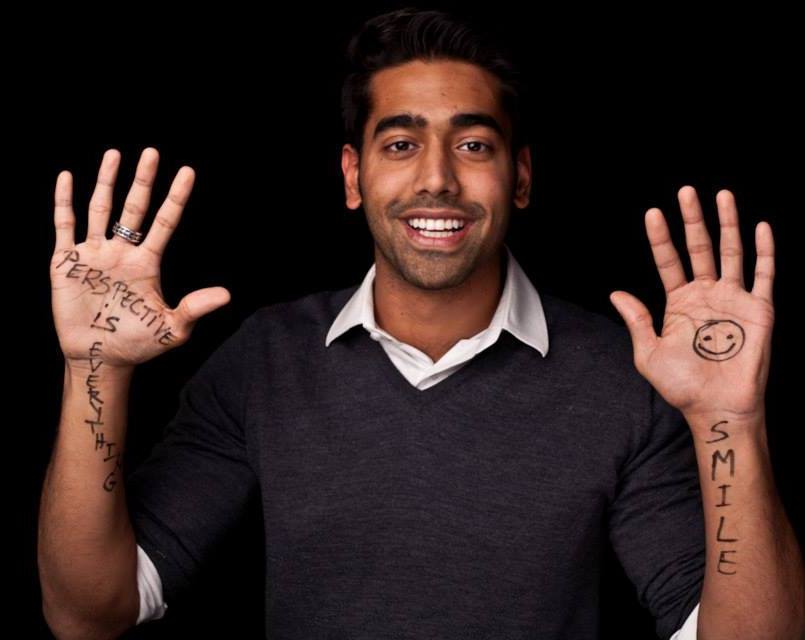 Hi, my name is Fehzan! I'm a serial entrepreneur that loves studying economics, investing, and the world around us. I started Return On Time after spending many years reading finance/economic news and actively investing in various asset classes. While I did learn a bit, I learned more that the real, valuable resources to invest really take a lot of time to find. After all these years, I decided to start Return On Time to deliver a balanced view backed with data and the right news.
We look forward to providing you with ROTI in 10 minutes a week.